Introducing our 2023 Grantees!
We are so excited to announce the 2023 TJFP Grantees!
We're humbled and blown away by the creative, life saving, and joyous grassroots trans justice work happening across the country. We are very pleased to announce that the 2023 grantmaking team awarded $1,850,000 in grants to 258 trans-led grassroots groups throughout the United States and the U.S. Territories! Now more than ever, it is vital to support our trans communities as much as we can. For the first time since 2017, we've increased our grant sizes to $5,000, $7,500, and $10,000.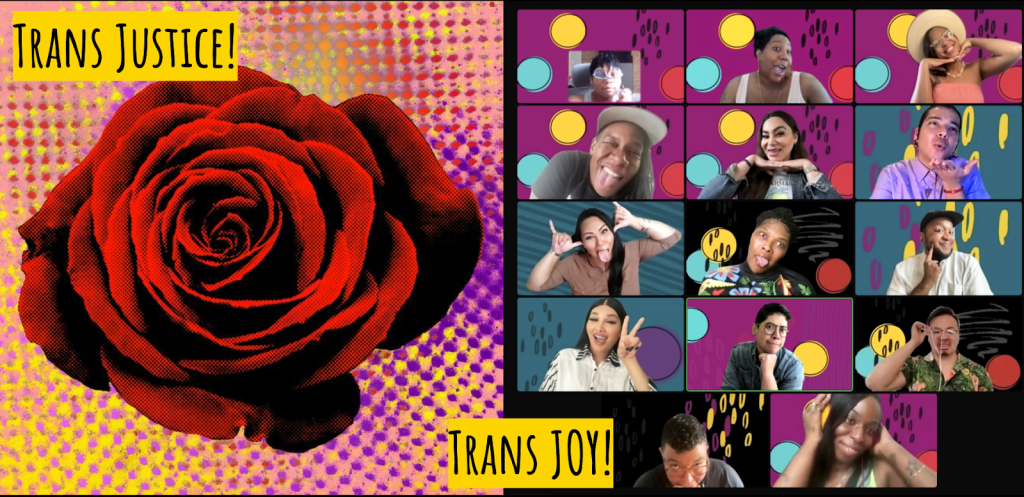 (From L – R:) 2023 Community Grantmaking Fellows: Mulani Jackson, Octavia Y. Lewis, Jade Lenore, Jardyn Lake, Khloe Rios-Wyatt, José A. Romero (AKA: "o"), 2023 TJFP Staff and Support Team: Cathy Kapua, Zakia McKensey, Gabriel Foster, Nicole Fernandes, Marin Watts, Demian Yoon, Christina Edwards, Brooke-Lynn Rowlands
As always, we are inspired by each and every application that was submitted. We also want to thank our 2023 TJFP community grantmaking fellows, who spent hour after hour over the last few months carefully reading and reviewing applications from 269 trans-led, grassroots groups and projects from around the country. We are so grateful for this year's team and for the time and energy that was poured into every part of this process. While community-led grantmaking isn't always quick and easy, it's always, always worth it for us!
Learn more about our grantees through the list below, and continue to support trans justice in whatever ways you can. You can also learn more about past years' grantees through our grantee map! Now more than ever, we need each other to show up for our trans communities.
TJFP's 2023 Grantees
Alabama
Black Knightz, Trussville
Arkansas
Be YoUUU Organization, Little Rock
Dots place, North Little Rock
Arizona
Fluxx Productions, Tucson
Kiki House of Majestic, Phoenix
Phoenix Trans Physical Therapy, Phoenix
Red Mountain Queer Housing Collective, Bisbee
California
Astral Productions, Los Angeles
Brooklyn Transcore, Covina
Brother 2 Brother, North Highlands
Call BlackLine, Spring Valley
Deaf Queer Resource Center, San Francisco
Dem Bois Inc, San Pablo
FeedThePeople.LA, Los Angeles
Global Transgender Safety Tasks Force USA Inc, San Francisco
Health Justice Commons, Oakland
HOLISTIC EMPOWERMENT INSTITUTE, Pomona
Invisible Men, Compton
LAGAI — Queer Insurrection, San Francisco
Miss Major Speaks' Book Tour, San Francisco
Muslim Alliance for Sexual and Gender Diversity, Richmond
Odara Labs, Oakland
Parivar Bay Area, San Francisco
Proyecto Trans Latina, San Diego
QTViệt Cafe Collective, San Francisco
Queer Crush Climbing, Emeryville
Queerchata, Long Beach
QueerPocalypse, Los Angeles
Rainbow youth network, Los Angeles
San Diego Black LGBTQ Coalition, San Diego
San Francisco Transgender Film Festival, San Francisco
Sick in Quarters, Los Angeles
Somos Familia Valle, Sun Valley
The Brown Building, San Diego
The Transgender Education Foundation, San Francisco
Three Waters Healing Arts, Oakland
Trans Empowerment Community, Oroville
Trans folks, San Francisco
Trans Radical Activist Network, Antelope
Trans Verstehen Initiative, San Pablo
Trans-E-Motion, Clovis
Trans-Embodiment Project, Chico
TransClinique, San Francisco
Transform: A Trans* BIMPOC Buddhist Anthology, Oakland
TranShout, San Francisco
Unique Woman's Coalition, Los Angeles
Voluminous Arts, Glendale
Colorado
Bread & Roses Legal Center, Denver
Friends Like Me, Englewood
Trans Outreah Program (TOP), Aurora
Connecticut
The Children of Marsha P. Johnson, New Haven
Trans Safety Emergency Fund Connecticut, Coventry
District of Columbia
AllowMe, Washington
Angel Rose Artist Collective, Washington
Black & Indigenous Transgender Safehaus (BITS), Washington
Golden Doors Respite Inc, Washington
Halal And Queer Collective (HAQ Collective), Washington
Tamachtiluyan Shuchikisa An Ne Nawat, Washington
The Purple Seahorse, Washintgon
Delaware
Motivational Monday, Camden Wyoming
Florida
Babalu America System Inclusion and Diversity, Kissimmee
Bridging The Gap, Coral Springs
Dignity Power, Orlando
ForCOC (For Caribbeans of Color), Lauderhill
Gators for Gender Affirming Care, Gainesville
Gender Advancement Project, Orlando
Hacking the Workforce, Tallahassee
Men Of Power, Hollywood
Progender, Inc, Miami
RadElDub Community Land Trust- Passionvine Project, Lake Worth
Rooted Resistance, Tallahassee
Social Film Projects LLC, North Miami Beach
T.Aff.Y (Trans Affirming Yearly), Miami
TBUILD, Altamonte Springs
The Lotus Flower Project Inc., Jacksonville
The McKenzie Project, Inc, Miami
The T Market Place Foundation, Miami
Trans Playhouse, Doral
Transgender Awareness Project, Jacksonville
TransONE, Jacksonville
TTHP United, Fort Lauderdale
Unspoken Treasure Society, Inc., Gainesville
Visibility365, Miami
Georgia
Advocates of the South, Inc., Loganville
All-1-Family, Inc, Atlanta
Community EsTr(El-La), Atlanta
Dagbasi Productions, Lithia Springs
Freedom Overground, Cordele
I Am Human Foundation, Ellenwood
JUNK M3D!A, Atlanta
Our Resilient Community, Winterville
Phoenix Transition Program, Conley
Southern Soul Wellness, Atlanta
Speaking 4 Profit University, East Point
The Lewis Project, Atlanta
Trans Housing Atlanta Program, Inc., Atlanta
Trans Women of Color Healing Project, Tyrone
Trans(forming), Atlanta
Ubuntu Incorporated, Atlanta
Hawaii
Ekolu, Kapolei
HI SIS, Honolulu
Ka Hui Hoʻokino Hālāwai, Honolulu
Idaho
Black Liberation Collective, Boise
Chanel Cares Charitable Foundation, Chicago
Illinois
Global Trans Community, Dundee
Pushing Envelopes Chicago, Chicago
Therapy Access Project, Chicago
Trans Pride Foundation, Palos Hills
Youth Empowerment Performance Project (YEPP), Chicago
Kentucky
Abolition House, Louisville
Louisiana
Amor Y Solidaridad, Hammond
LOUD New Orleans Queer Youth Theater, New Orleans
Louisiana Trans Advocates, Lafayette
Post Cards From Over The Edge Cast, New Orleans
Transcending Women, New Orleans
Massachusetts
Disabled Content Creators Collective, Brookline
sense, Pelham
The Third Hand, Waltham
Maryland
Beyond trans network, Campus way N
CVO, Owings Mills
Eastern Two Spirit Indigiqueer Planning Council, Baltimore
Maryland Trans*Unity, Silver Spring
Onyx Marketplace Collective, Baltimore
Queer Crisis Response Unit, Baltimore
Sistas of the "t", Baltimore
Trans Women of Color Collective, Chevy Chase
Trans Yoga Project, Greenbelt
Michigan
BIPOC Beyond the Binary, Highland Park
Escape AYA Cancer, Lansing
Mirkin Electrology, Lansing
Modulation Institute, LLC, Grand Rapids
Salus Center, Lansing
The Omni Studio, Lansing
The Relaxation Depot, Lansing
TMOC Liberation, Ypsilanti
Transformative Therapy & Consultation Services, Lansing
Tree of Life Sexual Wellness Center, Lansing
Minnesota
SPIRAL Collective, Saint Paul
Telling Queer History, Minneapolis
Transmission Ministry Collective, Minneapolis
Missouri
Feed the People Garden Project, Saint Louis
Kansas City Center for Inclusion, Kansas City
St. Louis Queer+ Support Helpline (SQSH), St. Louis
The Shades Project, St. Louis
Trans artist collective, Kansas City
Transformations Youth Group, Kansas City
Mississippi
Bois of the Sippi, Corinth
Love Inside For Everyone, Ridgeland
Love me unlimited4life, Jackson
The TRANS Program, Amory
Montana
The UBU Initiative, Kalispell
TransFusion, KALISPELL
North Carolina
"The Paris LaBelle Project", Gastonia
Asheboro Latinnxs Services, Asheboro
Greensboro Mutual Aid, Greensboro
H2afrO, Greensboro
Rainbow Collective for Change, Durham
Raleigh United Mutual Aid Hub, Raleigh
STATE OF EMERGENCY, Charlotte
New Jersey
Best Practices Policy Project, Morristown
Breaking the Binary Theatre, Princeton
New Mexico
Accessible Trans Wellness, Albuquerque
Authentic Creations Artistic Apothecary, Pueblo Territory, Albuquerque
Jess Jones Education & Consulting, Albuquerque
SW Two Spirit Society, Albuquerque
Trans Youth Together, Albuquerque
Nevada
Uncloak, Las Vegas
New York
#DorianCoreyProject/TRANSgressions, Kenmore
Alyssa Rodriguez Center for Gender Justice, Brooklyn
ATLS (Advocates for Trans* Law Students), New York
Bluestockings Community Conservatory, New York
Colectivo Intercultural TRANSgrediendo, Jackson Heights
Community Kinship Life, New York
F2L, New York
Gentle Time Farm, Chatham
Greenwich Village Film Collective, NY
IGMC, Ithaca
Kreative Haus, NY
Lion's Tooth Project, Newburgh
Mirror Trans Beauty Coop, Brooklyn NY
MLKY Productions, NEW YORK
P.R.I.D.E inc, New york
Reunion of African Descendants, New York
Strategic Trans Alliance for Radical Reform, Schenectady
T.R.A.N. for NY, New York City
The HAF Project, Bronx
Trans Resistance Through Media, Queens
TRANSBRATIONS arts collective, Bronx
Transcenders, New Paltz
Transilient, Brooklyn
WAVE Women Inc., Rochester
Xchange For Change, Poughkeepsie
Ohio
Black Trans Project, Columbus
We are trans, Lakewood
Autonomy Recovery Self-Defense, Portland
Oregon
BI2S Artists, Portland
Cyborg Support Group, Portland
Thesperience Productions, Albany
Pennsylvania
Bantu Safe Haven, Philadelphia
BLAQ5683 LLC, Philadelphia
KICKING OUT TRANSPHOBIA, Lansdale
La Semilla Del Sol, Philadelphia
No More Dysphoria, Philadelphia
Proud Haven, Pittsburgh
Transology Association, York
Visible Truth 365, Philadelphia
Puerto Rico
Alpha Trans Puerto Rico, Caguas
CASA YAMOCA OPIA, San German
EspicyNipples, Guayama
Euphoria Project, San Juan
Gastro Mia!, Trujillo Alto
La Otra Laboratoria, San Juan
Plataforma Eje, Guaynabo
Puerto Rico Transgender Wellness Center, Bayamon
Sembrando Resistencias, San Juan
Trans Goofy Games, San Juan
South Carolina
The Ladies Room, Greenville
South Dakota
South Dakota Youth Activism, Sioux Falls
Two Spirit Nation, Rapid City
Tennessee
Breathwood Collective, Liberty
Idyll Dandy Arts, Dowelltown
Nashville Gender & Sexuality Alliance, Nashville
Tennessee Transgender Task Force, Cottontown
Texas
Black and Brown Biennale, Houston
Chicos Trans Masculinos Oltt, Houston
Color Splash Out, Princeton
Drag Haus of Trans, Austin
Latinas Trans Dallas/Oltt, Houston
Organizacion Latina Trans in Texas, Houston
Rainbow collective, Houston
Trans Network Houston, Houston
TransNation, College station
Utah
Revolutionary Love Media, Salt Lake City
SafeZone Utah, Salt Lake City
Virginia
CVille Trans Peer Group, Troy
Diversity In Recovery, North Garden
Empowering Transgender Services, Hampton
Grimalkin Records, Dendron
LBL Productions, Franklin
Southeastern Transgender Resource Center, Norfolk
THRIVING TRANSMEN OF COLOR, Newport News
TRANS BALLROOM INITIATIVE, Norfolk
Trans Thrive Foundation, Richmond
Transgender Assistance Program of Virginia – TAP VA, Virginia Beach
Vermont
Crystal Ledge Farm, Bethel
Tender Fruits Collective, Derby
Washington
Bellingham Queer Collective, Bellingham
FREEDOM MATCH, Seattle
Hope Development Practice, Puyallup
Queer Mountaineers, Seattle
Red Cedar Community Network, Monroe
Tranzzlation, Seattle
Wisconsin
Lovell-Lepak Queer Outreach, Madison
Sun Seeker MKE, Milwaukee
Wyoming
Casper PRIDE Trans Fund, Casper