Entering a new year with new staff at TJFP!
We are pleased to introduce Cathy Kapua and Demian Yoon as TJFP's newest staff members, and Zakia McKensey as part of our brilliant facilitation team!
In 2017, Demian arrived at our office eager to volunteer and help in anyway he could. Even though we weren't yet set up to handle volunteers, Demian proved to be patient and dedicated. He showed up week after week to assist with admin related tasks, quickly becoming an invaluable teammate. We are so lucky to have him onboard as TJFP's new Database & Communications Coordinator!
That same year, former grantee Cathy Kapua joined the 2017 Community-led Grantmaking Fellowship crew. After completing her Fellowship, Cathy enthusiastically agreed to work with us a contractor helping us welcome and provide training as well as one on one support to our grantmaking fellows in 2018 and 2019. Cathy already came to TJFP with a long  track record of devotion and care for trans communities and trans justice. We're overjoyed Cathy said yes to us one more time, and we're honored to have her vision and leadership as our new Deputy Director!
Over the course of several years Cathy and Demian have given so much of themselves to make TJFP what it is today, and we can't imagine doing this work without them.
Passing the Torch!
When TJFP was brand new and just starting to get up and running, we realized we would need an experienced, talented facilitator to help create a space for our community-led panel to make difficult and thrilling decisions selecting grantees and their award amounts. Having seen Nico Amador in action while facilitating for the Leeway Foundation's artist and organizer funding panels it was obvious to us that he was 'the one'! And he's been facilitating TJFP from the very beginning! At first he facilitated solo before Andrea Jenkins and Glo Ross joined the facilitation team.
And now as we move into our 8th year Nico will be working closely with Cathy Kapua and 2019 TJFP Community Grantmaking Fellow Zakia McKensey, onboarding them and passing the torch to our new TJFP facilitation team! What a legacy of brilliant and fiercely dedicated facilitators!
Zakia has been a long time powershouse in Richmond, Virginia as founder and executive director of Nationz Foundation. Zakia is also a former grantee of TJFP and we can't believe she said yes to joining us. We're still fanning ourselves!
We invite you to celebrate this fabulous news with us by welcoming this dynamic team  Zakia, Cathy, and Demian to TJFP! We couldn't be more proud to continue trusting and centering the leadership of Black, Indigenous, Brown, people of color who are trans, gender nonconforming, and non-binary!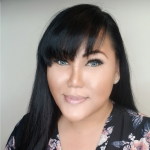 Cathy Kapua, Deputy Director
Cathy has worked with the transgender community since 2003, first starting off as a Peer Educator at Kulia Na Mamo, then eventually moving on to become the Transgender Service Manager at the Hawaii Health & Harm Reduction Center. Cathy is proud of her academic accomplishments in the University of Hawaii- West Oahu where she received a B.S. in Public Administration and continues to use these skills to help her Native Hawaiian community. She has been successful in advocating for transgender programming and providing culturally competency trainings throughout the nation but prides herself mainly on being a role model for younger transgender women in Hawai`i.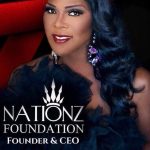 Zakia McKensey, Community Grantmaking Facilitator
Zakia is a native of Richmond, Virginia. She has been an active member of the LGBTQ community. For many years Zakia was a national performer and pageant competitor. She is a former Miss Gay Black America,  Miss Black National, Miss International Supermodel, Miss Godfrey's and Miss Virginia Capitol Pride. She has worked for Fan Free Clinic where she was instrumental in creating the Transgender Clinic as well as Richmond City Health District, where she was a Disease Intervention Specialist and also the 1st African American Transgender Women to ever work for the health district.
October of 2015 she opened the Nationz Foundation a 501C3 organization that provides advocacy for transgender individuals as well as offering HIV/STI testing, Food Pantry, Emergency Housing and other supportive services to the Greater Richmond Metropolitan Area. Recently she acquired an RV to create a mobile testing unit to offer her services in communities where transportation is a barrier to access testing or safer sex items and food.
Zakia also works for the Virginia Anti-Violence Project where she serves as the Transgender Advocate, assisting individuals who have experiences of violence. She was named a 2018 Outstanding Virginian, by Equality Virginia. Zakia was honored with a Firework Award by Virginia Pride in 2018. In her free time she enjoys time with family and friends, traveling, competing and attending pageants, cooking and spending time with her dog Japan.
Demian Yoon, Database & Communications Coordinator
Demian Yoon is a bi and trans Korean-American from New York. After studying English and Religion at Haverford College, he has worked in education (both indoor and outdoor) and philanthropy (both queer-focused and not), and is thrilled to be working at TJFP, his political home. Currently, he resides in suburban Connecticut with a partner and two sweet fur babies–a dog and a geriatric cat. In his free time he writes, takes long walks, and makes a mean frittata.