Announcing TJFP's 2020 Grantees!
We are pleased to announce that our 2020 grantmaking team moved over ONE MILLION DOLLARS to 261 grassroots trans-led groups around the country!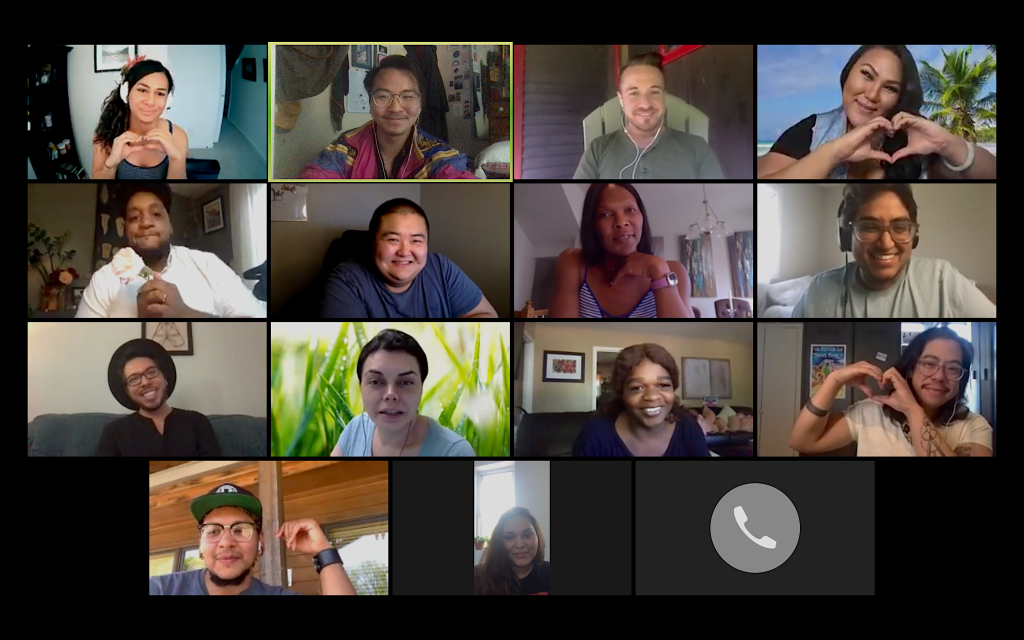 TJFP is so grateful for this year's team and for the time, energy, and heart that was poured into every part of this grantmaking process. Each year we feel overwhelmed by the support of our friends and amazing community who helped make this happen– from outreach, volunteering, coordinating food delivery, taking notes, and donating or sharing our fundraiser which helped us reach and exceed our 80k fundraising goal!
Each year our community grantmaking panel reads and reviews every application that is submitted, and together they are tasked with making some very tough funding decisions. The TJFP fellows do this work with heart, experience, and generosity, all while also tending to their own work and lives as trans justice activists and organizers. Each fellow reviews applications using an intersectional lens, paying close attention to where resources are being redistributed geographically, and doing this with no strings attached, truly trusting that TJFP grantees know what's best for their own communities. 
It's because of these brilliant community grantmaking Fellows, as well as our amazing TJFP coordinating team and facilitators, that we are able to get this done each year. And we absolutely  wouldn't be able to move as much money to the hundreds of incredible grassroots trans justice groups without our amazing friends, family, donors, volunteers, applicants, and grantees! 
As always, we are inspired by each and every application that was submitted. Again, we thank you from the bottom of our hearts for honoring the legacy and efforts of our trans justice movements.  Our grantmaking process is always a labor of love rooted in trusting and believing in trans leadership and it is forever an honor to do this with so many of you! 
We encourage you to check out TJFP's 2020 grantees, share their work, or donate to them directly!
Alaska
Choosing Our Roots, Anchorage
Alabama
The Knights & Orchids Society, Selma
The TRANShue Project, Faunsdale
Visibly Trans*, Birmingham
American Samoa
IMPACT, Pago Pago
Arkansas
inTRANSitive, Little Rock
Arizona
Chukshon Healing Network, Tucson
Equality Arizona, Phoenix
The Outlaw Project, Phoenix
Peacework Medical, Phoenix
Southern Arizona Gender Alliance, Tucson
Transcend Arizona, Paradise Valley
California
#BlackGirlzRule Coordinating Committee, San Francisco
API Equality – Northern California (APIENC), San Francisco
API TransFusion, Oakland
Beyond Binary Legal, Long Beach
Deaf Queer Resource Center, San Francisco
Dem Bois Inc., San Pablo
Gender Justice LA, Los Angeles
Health Justice Commons, Richmond
Homobiles, SAN LEANDRO
Indigenous Pride LA, Los Angeles
Intersex & Genderqueer Recognition Project, Fremont
Kween Culture Initiative, Oakland
Los Angeles Spoonie Collective, North Hills
Mirror Memoirs, Los Angeles
National Queer and Trans Therapists of Color Network, Oakland
Northstate Trans*/GNC Project, Chico
Peacock Rebellion, Oakland
Quest House Community Healing, Pacifica
San Francisco Transgender Film Festival, San Francisco
Somos Familia Valle, Mission Hills
Trans and Queer Youth for Gender Justice, Oakland
The SisTrahood, La Mesa
T4T Caregiving, Pacifica
Trans and Nonbinary Housing Collective, Sacramento
TRANScend, San Francisco
TRANScending in Nature, Greenfield
Unique Woman's Coalition, Los Angeles
Welcome, San Francisco
Washington DC 
Black & Indigenous Transgender Safehaus (B.I.T.S.)
Bois Modeling Transformative Justice (BMTJ)
Starseed Earthroot
Trans People of Color Coalition
Trans Women of Color Collective
Florida
Black Masc, Sunrise
Bridging the gap!, Fort Lauderdale
Florida Coalition for Trans Liberation, Tallahassee
The Halfway Point, Tallahassee
LIPS Tampa, Apopka
New Beginnings TLC, Inc., Winter Haven
Orlando Trans Collective, Orlando
QLatinx, Orlando
Rooted Resistance, Tallahassee
Social Film Projects LLC, North Miami Beach
TransInclusive Group, Pembroke Pines
TransSOCIAL, Inc., Miami
Unity Coalition|Coalicion Unida, Miami Beach
Unspoken Treasure Society, Brooker
Georgia
COMMUNITY ESTRELLA, Acworth
Community Roots, Decatur
Freedom Overground, Marietta
International Association of Trans Bodybuilders and Powerlifters, IATBP, Atlanta
Q&A, Sandy Springs
Queer Culture[s], Atlanta
Sexual Liberation Collective, Decatur
Southern Fried Queer Pride, Atlanta
TMBLM, Inc., Duluth
Trans Housing Atlanta Program, Atlanta
Trans-Individuals Living Their Truth, Decatur
Trans*Visible, Covington
Trans(forming), East Point
TRANScending Barriers Atlanta, Atlanta
Ubuntu Incorporated, Lithia Springs
Hawaii
Anuenue Alliance, Honolulu
HEARTS Maui, Wailuku
Kuaana Project, Honolulu
Illinois
Brave Space Alliance, Chicago
Masjid al-Rabia, Chicago
Transformative Justice Law Project of Illinois, Chicago
Transilient, Chicago
Youth Empowerment Performance Project (YEPP), Chicago
Indiana
GenderNexus, Indianapolis
TREES, Inc., South Bend
Louisiana
CANScantSTAND, New Orleans
Deep South Wellness Project, New Orleans
Imagine Water Works, New Orleans
LOUD, New Orleans
New Legacy Media Ministries, New Orleans
Massachusetts
Black and Pink Boston Chapter, Dorchester
Rebel Cause Inc, Springfield
Sonrisas, Cheshire
Trans Asylum Seekers Support Network and Ministry Alliance, Amherst
Maryland
Baltimore Safe Haven, Baltimore
The Maryland Trans Resilience Conference, Baltimore
Sistas of the "t", Baltimore
Trans Maryland, Gaithersburg
Trans-Latinx DMV, Baltimore
Maine
Maine Transgender Network INC., Portland
Portland Outright, Portland
Michigan
Grand Rapids Trans Foundation, Grand Rapids
Grassroots Activism Direct Emergency-GADES, Ferndale
Native Justice Coalition, Manistee
NUII WAAV BROTHERHOOD, Detroit
Salus Center UCC, Lansing
TGNC Emotional Wellness Providers' Summit, Detroit
Trans Sistas of Color Project, Highland park
Transcend the Binary, Ferndale
Minnesota
20% Theatre Company, Minneapolis
For the Culture, Minneapolis
Open Flame Theatre, Minneapolis
Queer Science, Saint Paul
shOUT: Minnesota's Trans & Gender Diverse Voices, Minneapolis
SPIRAL Collective, Minneapolis
Missouri
Feed the People Garden Project, St. Louis
Gabriella Rosé Justice Support System, Columbia
Kansas City Center for Inclusion, Kansas City
Lot's Wife Trans and Queer Chaplaincy, St Louis
Metro Trans Umbrella Group, St. Louis
Mid Missouri Transgender Support, Jefferson City
Our Spot KC, Kansas City
St. Louis Anti-Violence Project, St. Louis
Trans Queer Flat STL, St. Louis
Transformations, Kansas City
Transfuturism by The Justice Fleet, St Louis
Mississippi
Bois of the Sippi, Corinth
North Carolina
Asheville Transformers, Asheville
House of Pentacles, Durham
NC Trans Leadership Network, Asheville
Name Change Project, Asheville
Pansy Collective, Asheville
QORDS, Durham
Radical Kindred, Boone
There's Still Hope, Charlotte
WNC QTPOC Support Group, Asheville
Nebraska
Trans Collaborations Community Board, Kearney
New Jersey
Black Excellence Collective, Newark
New Jersey Red Umbrella Alliance, Long Branch
Tertium Quid, Jersey City
New Mexico
Albuquerque Queer Trans Community Yoga, Albuquerque
Decolonize Massage, Albuquerque
SW Two Spirit Society, Albuquerque
Trans Liberation Coalition, Albuquerque
Nevada
Gender Justice Nevada, Las Vegas
Las Vegas TransPride, Las Vegas
Trans Pride Foundation, Las Vegas
New York
Activation, Woodridge
Awakening Trans Art Coalition, Boiceville
Black Trans Blessing, Bronx
Black Trans Femmes in the Arts, Brooklyn
Black Trans Media, Brooklyn
Black Trans Travel Fund, Bronx
BlackCuse Pride, Syracuse
Caribbean Equality Project, Queens
Colectivo intercultural TRANSgrediendo / CITG, Jackson Heights
Community Kinship Life (Ck life), Bronx
Crystal LaBeija Organizing Fellowship, Brooklyn
Cuir Kitchen Brigade, Brooklyn
Dorian Corey Project WNY/Transgressions, Kenmore
F2L, New York
For The Gworls, Brooklyn
The G.H.O.S.T. Project, Brooklyn
Gays & Lesbians Living in a Transgender Society (GLITS), Queens
The Gender & Sexuality Therapy Center, New York
LEGION (League for Equity of Gender In Our Neighborhoods), Rochester
Lighthouse Mutual Aid, Saugerties
metaDEN, Brooklyn
Mirror Trans Beauty LLC, Brooklyn
Newburgh LGBTQ+ Center, Newburgh
NYC Trans Oral History Project, New York
The Okra Project, Brooklyn
Organización Latina Trans de New York, Brooklyn
Princess Janae Place Inc, Bronx
Radical Joy and Mental Health x Emulisfy, Brooklyn
Strategic Trans Alliance for Radical Reform (STARR), Schenechtady
T-FFED (Trans Folx Fighting Eating Disorders), Brooklyn
Trans Lab, New York
Trans Resistance Through Media, Bronx
TransGenerational Theatre Project, Long Island City
Ohio
Black Queer & Intersectional Collective, Columbus
META Center Inc., Akron
Margie's Hope, Akron
TRANSlate, Cleveland
TransOhio, Columbus
Oklahoma
Transpire Oklahoma, Inc., Tulsa
Oregon
Beyond These Walls, Portland
Glitter Squadron, Portland
Point of Pride, Eugene
QTPoC Mental Health, Portland
Trans*Ponder, Eugene
Pennsylvania
Hearts on a Wire, Philadelphia
Interfaith Working Group dba Transfaith, Philadelphia
Lehigh Valley Transgender Renaissance, Orefield
T'DAS: Transgender Domestic Abuse Sanctuary, Philadelphia
Trans Minors Rights, Lititz
TransCamp, Philadelphia
TransFamily of NWPA, Erie
Puerto Rico
Arianna's Center / Puerto Rico, San Juan
Editorial Casa Cuna, Hormigueros
EspicyNipples, Guayama
Fundación Boreales, Carolina
Pólvora Colectiva, San Juan
Semillas, San Juan
T.E.A. ( Transgenero En Accion ), Guaynabo
Trans Feria. San Juan, San Juan
Rhode Island
Triumphant 2Gether, Providence
South Carolina
Alpha Omega Kappa Fraternity, Inc., Lexington
Gender Benders, Piedmont
Pride Link, Greenville
T-Time Transgender Support, Myrtle Beach
Transgender Awareness Alliance: Greg Green, Lexington
We Are Family, North Charleston
South Dakota
Two Spirit Nation, Porcupine
Tennessee
Bold & Beautiful, Memphis
The Meadow Collective, Liberty
Trans Empowerment Project, Knoxville
WeCareTN, Memphis
Texas
Black and Brown Biennale, Houston
Black Trans MX, Carrollton
Black Transmen Inc, Carrollton
Black Transwomen Inc, Carrollton
Borderland Rainbow Center, El Paso
Cicada Collective, Lewisville
Coastal Bend Trans Alliance, Corpus Christi
Cons.T.ruct, Houston
GenTex, McAllen
Latinas Trans Austin, Houston
Latinas Trans Dallas, Houston
Organizacion Latina Trans in Texas, Houston
Revolution Foundation, Dallas
Trans Legal Aid Clinic Houston, Houston
Trans Pride Initiative, Dallas
Virginia
Charlottesville Trans Peer Group, Troy
Garden of Peace, Inc., Newport News
MINORITY TRANSGENDER UNITY, Norfolk
Power Safe Place Resource Center of Virginia, Front Royal
South eastern transgender Resource Center, Norfolk
Stand for Art Foundation, Alexandria
TEA of Greater Washington D.C., Burke
Transgender Assistance Program of Virginia – TAPVA, Virginia Beach
Transgender Veterans Support Group-Virginia, Richmond
Twin Oaks Queer Gathering, Louisa
Vermont
Out in the Open, Brattleboro
Washington
Beyond Bars and Binaries, Tacoma
The Black Trans Prayer Book, Seattle
Heartspark Press, Olympia
QTPOC Birthwerq Project, Seattle
Rad Care, Seattle
Solace, Spokane
Stonewall Youth, Olympia