Announcing the 2018 TJFP Grantees!
We're giving away more than ever before to 182 trans-led grassroots groups! 
For the past several months, the 2018 TJFP community grantmaking fellows spent hour after hour carefully reading and reviewing applications from 216 trans-led, grassroots groups and projects from around the country and were charged with the task of moving resources to trans communities across the country–this year, a record breaking 182 groups will be receiving a grant. As always, we are inspired by each and every application that was submitted.
We felt the overwhelming need our communities are experiencing and we know that oftentimes this work is happening with very little to no support. In May we reached our 50k fundraising goal, allowing us to give away $500,000 this year, but 182 groups is a lot of groups and suddenly $500,000 didn't feel like that much anymore. Lucky for us and thanks to a few last-minute donors, we were able to increase our total grant money well past half a million dollars—all the way to $650,000!
It's because of our amazing family, friends, and community that we were able to give so much money to so many incredible grassroots trans-justice groups. We are so excited to announce our 2018 Grantees!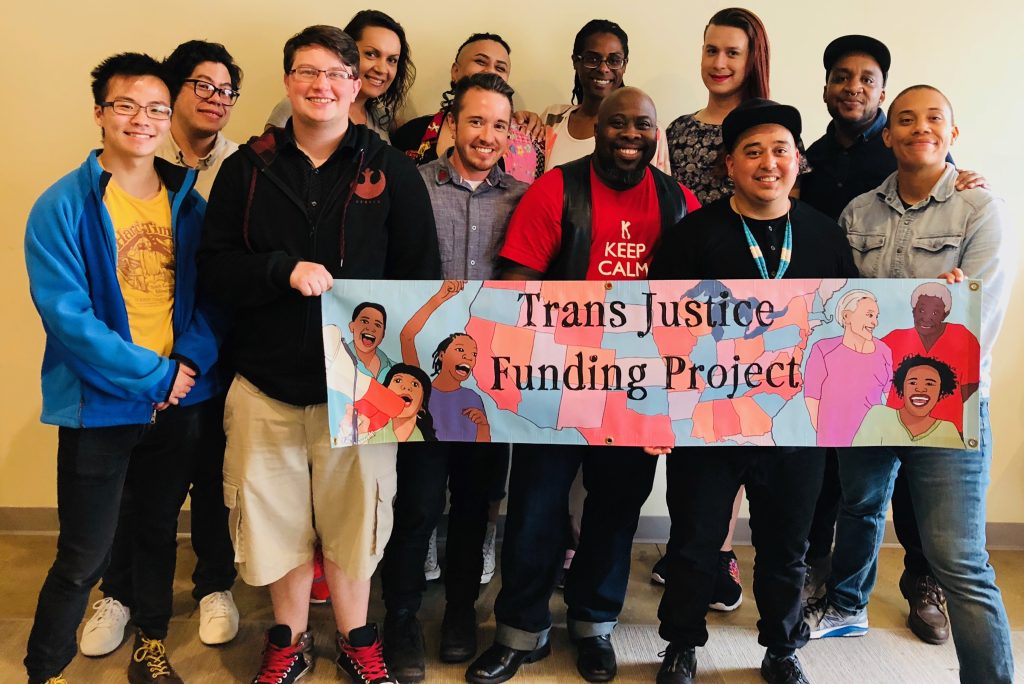 ***Please check out this year's list of grantees below***
The 2018 TJFP Grantees
Alaska
Transgender Leadership Council of Alaska, Ankorage
Alabama
Dropzone, Selma
TKO Society Inc., Selma
Transgender Advocates Knowledgeable Empowering (TAKE), Birmingham
Arkansas
Arkansas Transgender Equality Coalition, North Little Rock
Center for Artistic Revolution, Little Rock
House of GG's, Little Rock
Arizona
Camp Born This Way, Tucson
Mariposas Sin Fronteras, Tucson
Peacework Medical, Phoenix
Southern Arizona Gender Alliance, Tucson
The Outlaw Project, Phoenix
Trans Queer Pueblo, Phoenix
Transcend Arizona, Paradise Valley
California
API Equality – Northern California (APIENC), San Francisco
API TransFusion, Oakland
Black LGBTQIA Migrant Project (BLMP), Oakland
Bloom: Transgender Community Healing Project, Union City
Dem Bois Inc.
Gender Illumination, Berkeley
Live It Fully Empowered, Long Beach
Los Angeles Queer Resistance, Los Angeles
National Queer and Trans Therapists of Color Network, Oakland
North State Trans/GNC Project
Peacock Rebellion, Oakland
The Red Shades, Oakland
Trans and Nonbinary Housing Collective
Trans Student Educational Resources, Santa Cruz
Trans-E-Motion, Fresno
Transfinite, San Francisco
Transgender Advocates for Justice and Accountability, San Francisco
TranShout
Colorado
TYES of the Pikes Peak Region
Transformative Freedom Fund, Denver
Washington D.C.
The Marsha P. Johnson Institute
Trans Women of Color Collective
Delaware
The East Coast Two Spirit Society, Lewes
Florida
Arianna's Center, Fort Lauderdale
Orlando Trans Awareness</a, Orlando>
Social Film Projects, North Miami
Trans Women in need of Services DBA TransInclusive Group, Pembroke Pines
TransSOCIAL, Inc., Miami
UC|CU's TRANSART Artists Showcase & Conference, Miami Beach
Georgia
Comunidad Estrella, Brookhaven
Freedom Overground, Atlanta
LaGender Inc., East Point
Sexual Liberation Collective, Decatur
Sisters Returning Home
Southern Fried Queer Pride, Atlanta
TMBLM, Duluth
Trans Housing Atlanta Program, Inc., Atlanta
Trans(forming), Atlanta
TRANScending Barriers Atlanta, Atlanta
Hawaii
Ka Aha Mahu, Honululu
Idaho
Idaho Transgender Healthcare Advocacy Coalition, Inc., Boise
Illinois
America in Transition, Chicago
Brave Space Alliance, Chicago
Masjid al-Rabia, Chicago
RAD Remedy, Chicago
Transformative Justice Law Project of Illinois, Chicago
Upswing Advocates, Chicago
Youth Empowerment Performance Project (YEPP), Chicago
Indiana
GenderNexus, Indianapolis
TREES, Inc., South Bend
Kansas
Kansas Statewide Transgender Education Project,Topeka
Louisiana
Louisiana Trans AdvocatesBaton Rouge
Intentional Flow, New Orleans
Massachusetts
Black Trans Love is Black Wealth Writing Retreat, Williamstown
Maryland
Maryland Trans*Unity, Bethesda
Translatina DMV, Hyattsville
Sistas of the "T", Baltimore
Maine
Maine Transgender Network, Portland
Portland Outright, Portland
Michigan
Detroit REPRESENT!, Detroit
Ruth's Apothecary, Detroit
Minnesota
Gender Reel, St. Paul
Minnesota Transgender Health Coalition, Minneapolis
Queer Science, Minneapolis
Missouri
Our Spot KC, Kansas City
Gabriella Rosé Justice Scholarship, Columbia
Metro Trans Umbrella Group, St. Louis
Mid Missouri Transgender Support, Jefferson City
Trans Queer Flat, St. Louis
Transformations KC, Kansas City
Transfuturism by The Justice Fleet, St. Louis
Mississippi
The Spectrum Center, Hattiesburg
Montana
Montana Two Spirit Society, Missoula
LGBTQ Youth for Gender Equity, Missoula
North Carolina
Asheville Transformers, Candler
House of Pentacles, Durham
NC Transgender Rapid Response Project, Asheville
The Clearing, Durham
Trans*Visible, Durham
Transcend Charlotte, Charlotte
Transgender Medical Resources and Provider Education
Tranzmission, Asheville
Tranzmission Prison Project, Asheville
Nebraska
Trans Collaborations Community Board, Lincoln
TransLNK, Lincoln
New Hampshire
OutoftheBOXHub/Helpin' Tranz Form U, Concord
New Jersey
OtherWise Engaged, Lawrenceville
Tertium Quid, Jersey City
New Mexico
Transwoman Empowerment Initiative, Albuquerque
Tres Soles, Albuquerque
Nevada
Las Vegas TransPride, Las Vegas
Trans Pride Foundation Las Vegas
Transgender SOS, Las Vegas
New York
All youth Inc., Lancaster
Black Trans Media, Brooklyn
Colectivo intercultural TRANSgrediendo / CITG, Jackson Heights
Community Kinship Life (CK Life), Bronx
Dorian Corey Project/TRANSgressionsBuffalo
F2L, Brooklyn
Gays and Lesbians Living in a Transgender Society (GLITS, Inc.), Brooklyn
Hudson Valley Creative Trans Wellness Collective, Boiceville
No Labels Clothing Cooperative, Buffalo
NYC Trans Oral History Project, New York
QTPoC Mental Health, New York
Queer Detainee Empowerment Project, New York
The Gender & Sexuality Therapy Collective, New York
The TransGenerational Theatre Project, Queens
Transilient, Brooklyn
Translatina Network, New York
Ohio
Black Queer & Intersectional Columbus, Columbus
Heartland Trans Wellness Group, Cincinnati
Margie's Hope, Akron
TransOhio, Inc., Columbus
Oklahoma
TransOklahoma, Tulsa
Oregon
Beyond These Walls, Portland
Glitter squadron*portland disability bloc, Portland
Sacred Vessle Medicine and The Equi Institute, Portland
The Bridgewalkers Alliance, Portland
Trans*Ponder, Eugene
TransActive Gender Center, Portland
Philadelphia
Black Excellence Collective, Philadelphia
Garden of Peace Project, Pittsburgh
Hearts On A Wire, Philadelphia
SisTers PGH, Homestead
The LGBT Center of Greater Reading, Reading
Trans Equity Project, Philadelphia
Transfaith, Philadelphia
TransFamily of NWPA, Erie
Puerto Rico
Puerto Rico Trans Youth Coalition, San Juan
Semillas, San Juan
Rhode Island
TGI Network of Rhode Island, Providence
South Carolina
Gender Benders, Piedmont
We Are Family, Charleston
South Dakota
Trans Action South Dakota, Sioux Falls
Tennessee
Bold & Beautiful, Memphis
Tennessee Transgender Political Coalition, Nashville
Trans Empowerment Project, Knoxville
Texas
Allgo, Austin
Black Transmen Inc, Carrollton
Black Transwomen Inc, Carrollton
Gender Infinity, Houston
Gender Portraits, Austin
Latinas Trans Austin, Austin
Latinas Trans Dallas, Dallas
Organizacion Latina Trans in Texas, Houston
Trans Legal Aid Clinic Harris County, Houston
Trans Pride Initiative, Dallas
Transform Houston, Houston
Transgender Education Network of Texas, Austin
Virginia
Transgender Veterans Support Group-Virginia, Richmond
Community Ele'te, Richmond
Lynchburg Transgender Alliance, Lynchburg
Nationz Foundation, Richmond
Transgender Assistance Program of Virginia, Virginia Beach
Transgender Education Association of Greater Washington D.C., Burke
Vermont
Green Mountain CrossroadsBrattleboro
Washington
Gender Justice League, Seattle
Heartspark Press, Olympia
Lavender Rights Project, Seattle
QTPOC Birthwerq Project, Seattle
Rad Care, Seattle
Stonewall Youth, Olympia
The #BlackTransPrayerBook, Seattle
The Transgender Language Primer, Burien
UTOPIA Seattle, Seattle
Wisconsin
Center for Community Healing, Madison
Two–Spirit Nation
Nelwat Ishkamewe, EarthStar