We did it! Grantee announcement coming soon!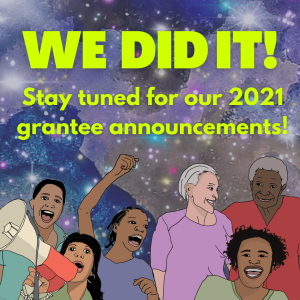 Wow! Our Community Grantmaking Fellows spent several days and hour upon hour, meeting virtually to thoughtfully select our 2021 grantees and award amounts.
We're so excited to share out our brilliant 2021 grantees (all 308!) with you in the coming week. These grantees will be supported in part by the astonishing $138,570 that we received during our fundraiser! That amount includes proceeds from so many individuals like you, charity concerts, art auctions, match offers, and some extremely large donations.
Once again we're in awe of the creativity, brilliance, and care on display as our communities show up for grassroots trans organizing–thank you all so much for sharing, boosting, and donating to our fundraiser. WE did this together!