TJFP volunteer Rebecca Wisotsky chatted over the phone with our 2014 grantees to learn more about what their year has been like organizing their communities, providing public education and services, and working towards trans justice. Our grantees generously took the time to share their stories, including their success and challenges. Come meet some of our incredibly dedicated and inspiring grantees from across the country!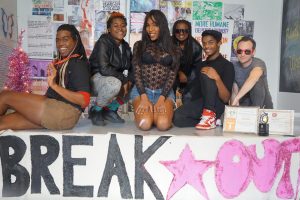 "I'm inspired everyday."  This is what Wes Ware, the Director of BreakOUT! said when I asked him to tell me about a time he was inspired by their work of. Really? Every day?! Maybe I'm too cynical. Maybe I'm burnt out. Maybe I'm exhausted by the struggle and need a nap. But, in that moment, I couldn't imagine being inspired every day. So I pressed Wes for more information. How is that possible?
BreakOUT! builds the power of LGBTQ youth ages 13-25 who are directly impacted by the criminal justice system through youth organizing, healing justice, and leadership development programs. Wes broke down the realities for trans youth in New Orleans for me. "The majority of BreakOUT! members are trans young women who are black, involved in street economies, and struggling with jobs and family life. Beyond every day being a struggle, they still continue to come to BreakOUT! and do work on behalf of their entire community. The struggle is real." These members' investment in the organization's work is a testament to their resilience. I was starting to understand where Wes's daily inspiration came from.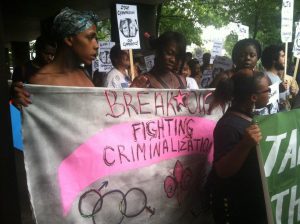 The struggle is real. Brought together by their shared experiences with injustice and oppression, the members of BreakOUT! have built a deep connection with each other. But Wes also wanted to make sure that this connection is not romanticized. "BreakOUT! feels like family," he explained. And with family comes both beautiful moments and challenges.
One beautiful moment was the recent release of their "We Deserve Better" report. BreakOUT! wants to make sure that trans youth of color's stories are uplifted in this recent report and that their youth members are consistently reminded of their rich legacy of struggle against injustice. They are also educating the general public about the long history of queer and trans people of color organizing and seeking to end discriminatory policing practices, particularly for black transgender young women in New Orleans. As the mainstream TV cameras once again disappear, BreakOUT! and many other grassroots communities know that the story of racial profiling, militarizing of police forces, and unjust court proceedings continue for black, brown, low income, immigrant, youth, and queer people. Our communities' cameras have not turned off. Our realities continue.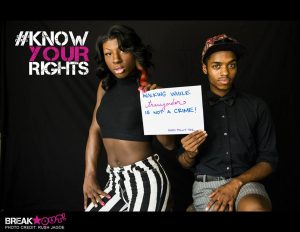 BreakOUT! remembers that many people who have been murdered by the New Orleans police never had a day in court. They wrestle with the fact that so many black and brown trans women are murdered by the state and that their lives are going unnoticed. This hard reality fuels the fire that keeps members organizing. BreakOUT! sees this particular political moment as an opportunity to educate allies about how and why we ended up here and what steps they can take, even after the public rally ends. This is a moment for us all to be politicized, re-politicized, question everything, and create collaborations and strategies.
The struggle is real and small, underfunded trans and queer youth of color groups like BreakOUT! are leading the way. Learn more about how they are doing it at www.youthbreakout.org.
Rebecca Wisotsky, a queer, Puerto Rican Jew from New Mexico, with New Yorkers for parents, has been working towards social justice since she was first able to say "justicia."