Trans Justice in Action: 2013 Grantee TILLT
TJFP volunteer Rebecca Wisotsky chatted over the phone with our 2013 grantees to learn more about what their year has been like organizing their communities, providing public education and services, and working towards trans justice. Our grantees generously took the time to share their stories, including their success and challenges. Come meet some of our incredibly dedicated and inspiring grantees from across the country!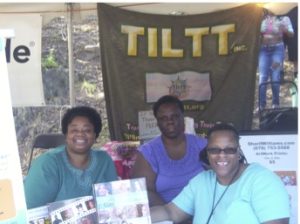 Located in the "Bible Belt" of the South, TILTT is on a mission to provide a safe and supportive place for the transgender community, giving them the tools to cope with the community at large. I got the opportunity to catch up with Ms. Cheryl, the main organizer of TILTT, and she shared with me how by addressing the issues the transgender community faces head on, she believes we can begin a new movement to "tilt the world towards change."
Sounds good right? I'm in! But the big question I had for Ms. Cheryl was: how is TILTT actually tilting people's negative perceptions of trans folks? And how can TJFP get on board to support the work? Well, let me tell you she had no shortage of answers. I'll do my best to list out a couple for you here:
1.  TILTT is dedicated to creating visibility. For the first time, they were able to represent and participate in Atlanta Pride by having their own booth at the festival. Ms. Cheryl used some of the TJFP funds to make TILTT their very first banner which they marched proudly with in the Trans March. For many members it was their first time being in a pride march. She proudly told me, "At the end of the two days, I felt like we really accomplished something and that it was critical that we were there."
2.  TILTT is being resourceful and building collaborations with ally organizations. One of the biggest challenges Ms. Cheryl shared with me is trying to do outreach to trans community (or "my girls" as she lovingly said) without a reliable source of transportation. Ms. Cheryl tirelessly does outreach to trans individuals to help make them aware of their HIV status, as well as providing current information around prevention and information on resources/treatment for those needing it. "I need to reach the girls where they're at." This outreach is done at all hours of the night after public transportation is not running. TILTT organizers will now be joining another organization in their clinic van to hand out condoms, give HIV/AIDS testing and education, Hepatitis C prevention education, diabetes and high blood pressure testing, and information about how to get involved in TILTT.
These are only a few of the ways in which TILTT is working against racial and transgender discrimination while striving to motivate membership to participate in and provide leadership for community events and actions. There is so much more that TILTT is doing to combat the negative images of trans community while also advocating trans justice. If you want to learn more and really want to tap into the brilliance of Ms. Cheryl and TILTT organizers you can always get in touch with them at www.tiltt.org.
Rebecca Wisotsky, a queer, Puerto Rican Jew from New Mexico, with New Yorkers for parents, has been working towards social justice since she was first able to say "justicia."