Trans Justice in Action: 2013 Grantee First Rain
TJFP volunteer Rebecca Wisotsky chatted over the phone with our 2013 grantees to learn more about what their year has been like organizing their communities, providing public education and services, and working towards trans justice. Our grantees generously took the time to share their stories, including their success and challenges. Come meet some of our incredibly dedicated and inspiring grantees from across the country!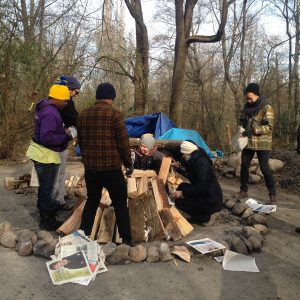 "We often feel like we leave out a piece of our identity." This is how Rafaela explained to me why it is so important for trans, two-spirited, mixed, indigenous people of color in the Seattle area and beyond to connect with each other and preserve their indigenous ways of life. First Rain is a small collective of people who are committed to creating more accessibility, reconnection and awareness of brave spaces for making ritual around all stages of transformation during a two-spirited person's realization of body, heart and mind.
It's not uncommon that communities are built (or rebuilt) as a response to oppression. First Rain began as a response to trans, two-spirit, people of color feeling like they had no access to being in community with traditional indigenous folks in their local area because of homophobia, transphobia and internalized racism. "I wanted to be in more places with each other than just rallies…I just really wanted to be in prayer together…creating places to heal." First Rain has spent 2013 creating places to heal through organizing sweat lodge ceremonies, talking/prayer circles and pipe ceremonies. Over the last year they've hosted many pipe ceremonies where generations of indigenous two-spirit people of color come together and learn rituals and are encouraged to share rituals from their own lines of tradition. Through ceremonies, a resurgence of two-spirit traditions and the reconnection to ceremony contributes to the collective healing of TQPOC communities and the reclamation of bodies, hearts, and spirits. TJFP's funding was First Rain's first grant and since receiving it, they were able to help coordinate many more ceremonies and provide transportation for more people across generations to attend these gatherings.
Continuing to create awareness, language and relationships between trans, two-spirit, indigenous people is critical to the liberation of all oppressed people. By continuing to operate in a gay and lesbian mainstream movement we can easily lose sight that our lives are connected and true liberation will only be a reality once we are all free. As people who have been colonized, marginalized and forced to learn methods of survival in our current (and past) societies, it is important to remember that sometimes we need to literally be in the same space with each other to chip away at the isolation that has come between our qtpoc communities. Reflecting on my conversation with Rafaela and the work of First Rain, I was reminded of the power we have when we're sitting together, learning about each other and being accountable to each other. "It can be difficult to explain because we don't always have the language. We can get really intellectual, but as time goes on it's interesting to watch people come into their heart."
Rebecca Wisotsky, a queer, Puerto Rican Jew from New Mexico, with New Yorkers for parents, has been working towards social justice since she was first able to say "justicia."