Introducing 2021 TJFP Community Grantmaking Fellow, Loan Tran!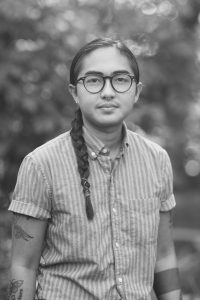 We're delighted to be able to welcome the fifth of our six Community Grantmaking Fellows, Loan Tran!
Loan Tran is a migrant originally from Ho Chi Minh City, Viet Nam currently organizing in Durham, North Carolina. For more than a decade they have been involved in liberation struggles for migrants, LGBTQ people, communities of color, and youth and students.  As a writer, their work has been included in publications such as The Solidarity Struggle: How People of Color Succeed and Fail At Showing Up For Each Other In the Fight For Freedom (2016) and Gendered Lives: Intersectional Perspectives (7th Edition, 2019). They are known for their piece, Calling In: A Less Disposable Way of Holding Each Other Accountable, released on Black Girl Dangerous in 2013. They firmly believe only a movement rooted in solidarity across identities, geographies, and issues can transform our lives. They are a member of the board of directors of the Highlander Research & Education Center; co-chair the Third Wave Fund Advisory Council; and advise the Andrus' Family Foundation's Visionary Freedom Fund. Currently they are spending time slowly: cooking for friends and family, writing, and digging in the dirt.
Thank you for bringing your brilliance to this year's panel–we're so glad you said yes!