Introducing 2021 TJFP Community Grantmaking Fellow, Dominique Morgan!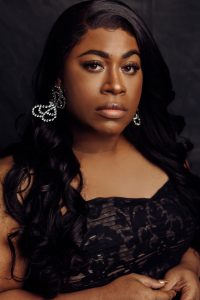 We're so glad to announce the third of our six Community Grantmaking Fellows, Dominique Morgan!
Dominique is an award-winning artist, activist, and TEDx speaker. As the Executive Director of Black and Pink, the largest prison abolitionist organization in the United States. She works daily to dismantle the systems that perpetuate violence on LGBTQ/GNC people and individuals living with HIV/AIDS. Partnering her lived experience of being impacted by mass incarceration (including 18 months in solitary confinement), with a decade of change-making artistry, advocacy, and background in public health, she continues to work in spaces of sex education, radical self-care, and transformative youth development with intentions of dismantling the prison industrial complex and its impact on our communities. Ms. Morgan is a 2020 Ten Outstanding Young Americans Award recipient, NAACP Freedom Fighter Award recipient, and 2020 JM Kaplan Innovation Prize recipient. Her new album Pisces In E Flat Major is available on all platforms and her book "Sex Ed for System Facing People" will be available Jan 2022. Find out more about Dominique at www.dominiquemorgan.com. Check out her TEDxTalk on Resilience. 
We can't overstate how excited we are that you're joining us, Dominique!