Introducing 2021 TJFP Community Grantmaking Fellow, Candi Brings Plenty!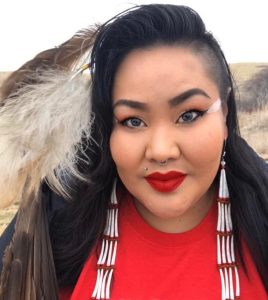 TJFP is so honored to introduce the fourth of our six Community Grantmaking Fellows, Candi Brings Plenty!
The Two Spirit Nation was not only just an encampment at the Očeti Šakowin camp at Standing Rock during the NoDAPL movement, it was a movement within a movement. Candi Brings Plenty is a Two Spirit Water Protector and Land Defender, who initiated Two Spirit visibility and awareness during the largest historical gathering of nations while decolonizing ceremonies and reclaiming space in sacred circles for Two Spirit relatives.
Candi Brings Plenty, Wakinyan Tunwanpi Iyoyanpa Win (Bright Lightening Womxn), is an Oglala Lakota Sioux, Queer Indigenous, Non-binary Two Spirit. They are a protector of the sacred and activist for Indigenous justice. Their red lipstick is their war paint, as they take their place on the frontlines as a Two Spirit Warrior Queen. They continue to educate and advocate throughout Turtle Island sharing their experience as a frontline Two Spirit Water Protector and as a Land Defender. They are a fierce Missing and Murdered Indigenous People's advocate. They are a Spiritual & Wellness Practitioner who elevates traditional methods of trauma healing.
Candi Brings Plenty is a direct descendent of Crazy Horse's band and is an ancestral survivor of the Wounded Knee Massacre. They continue to stand in the face of the colonizer to protect the sacred and Unći Maka. They currently live in the Black Hills, in Rapid City, SD where they work as the first ACLU Indigenous Justice Organizer for the South Dakota, North Dakota & Wyoming region. They are incorporating Indigenous methods and constitutional rights to bring awareness and protection for frontline warriors to exercise their civil liberties.
We're so glad you'll be on the team this year, bringing all the wisdom and experience that makes you such a powerhouse!