Introducing 2017 TJFP Community Grantmaking Fellow, Quentin "Que" Bell!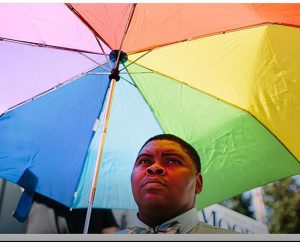 We are so excited to welcome Que to the 2017 TJFP community grantmaking panel!
Quentin "Que" Bell is a Black Trans activist, entrepreneur, and mentor born and raised in historic Selma, Alabama. Que received his Bachelor's degree from Alabama State University in Business Administration with an Entrepreneurial Concentration. In the fall, Que, will be attending Auburn University pursuing a Master's of Public Administration focusing on Non-Profit Management. While at ASU Que found a way to combine his entrepreneurial spirit with his passion for advocacy and founded The Knights & Orchids Society. TKO is a southern centered grassroots startup led by black, queer, transgender, and gender non-conforming people fighting at the intersections of racial and gender justice. Since 2012 Quentin's goal remains unchanged, to improve the quality of life within the LGBTQ+ community by creating safe spaces that empower, educate, and unite Trans, GNC, & Queer role models of color. Que has dedicated his adult life to actively serving in leadership positions to help advance the fight for LGBTQ equality and inclusion while increasing visibility for Trans men of color.