Drunktown's Finest showing in Asheville, NC tonight!
Asheville!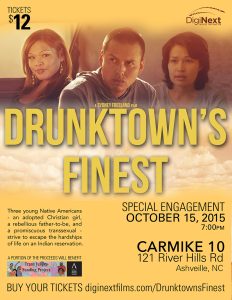 Tonight is your opportunity to support a film written and directed by a Navajo trans woman AND TJFP's upcoming Sweetgrass Award that will make grants to Native American/Two Spirit groups and organizations in the US working for trans justice.
Tickets can be purchased at the door or online. Here is a back up link just in case.  Just type in Asheville in the location box. We don't want to loose anyone!
More about the film:
Writer and director Sydney Freeland was born and raised on a Navajo reservation in Gallup, New Mexico—dubbed "Drunktown." The disconnect between her experiences and the media's portrayal of reservation life compelled her to create last year's Sundance success, Drunktown's Finest. The narrative feature offers not one, but three harrowing interwoven tales of loss and triumph at or around a reservation in Drunktown. Felixia, a trans woman, pursues a spot in the "women of the tribe" calendar. Sick Boy confronts violence and drug abuse. Nizhoni seeks out her past, well after being adopted by a white family. At its core, the film represents the ongoing search for identity and Freeland's desire to more honestly portray reservation life.
This film is not to be missed! Don't miss out!