Announcing our third 2019 TJFP Grantmaking Fellow, Úmi Vera!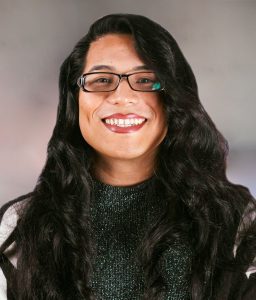 TJFP is so lucky to get to work with this amazing organizer and force of light!  Úmi's passion and excitement as she reads through this years applications, learning more about the breadth of trans justice work is EVERYTHING. Please welcome to the TJFP grant making team, Úmi Vera!
Úmi is a child of Tepehuan O'dami indigenous immigrant parents. She was born and raised half of her life in southeast L.A and currently resides in
the Pacific Northwest. With 15 years of organizing experience predominantly in policy advocacy in the intersections of migrant and trans/queer grassroots organizing, she joined Familia: Trans Queer Liberation Movement as the Campaign Director.
She has executive leadership experience and was most recently the End Profiling Legislative Campaign Director at Unite Oregon, a refugee and immigrant rights organization. There she co-created Resilient Connections, a support group and leadership program for trans/queer refugees and migrant new arrivals. Úmi is very passionate about her fellowship role at TJFP and she hopes to continue building with TJFP's incredible network of trans lead movement building.
Thank you Úmi for joining the team!