And Now.. Introducing our Sixth and Final 2019 TJFP Grantmaking Fellow, Micky B!
Completing the 2019 Community Grantmaking Fellowship team is the extraordinary Micky B!  Having been long time fans of Micky B's work and ongoing commitment to trans justice, particularly in the South, we were floored when she agreed to join us.  Please help us celebrate all of our 2019 Fellows who over the past several months have been working harder then you might ever imagine.
Right now we're just a few days away from hosting this awesome panel in New York who will be meeting all weekend long making final funding decisions! Stay tuned for more!
But for now, we're pleased to introduce you to Micky B!
Micky B is a Black Trans Woman using cultural organizing to build the political leadership of Trans/GNC leaders across the South. Though a German born Army brat, Micky descends from the 1st free Black welders in Southwest Georgia. Her political development was grown through a village of white feminist lesbians, Black trans women, & HIV-positive Black gay men. Since 2015, Micky B co-founded & continues to curate "Southern Fried Queer Pride" (SFQP), a DIY art education non-profit and week long queer art festival. Through SFQP, she explores the nuanced intersections of queer performance art, installation, and film.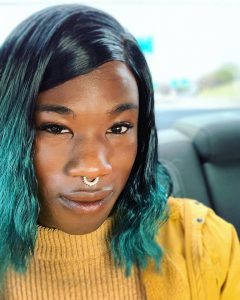 Micky has organized trans communities across the South as the 1st lead of the TLC@SONG program, where she co-organized against HB2 in NC, held a TGNC leadership convening in Nashville, TN, and organized a listening tour across the region. Currently, Micky works as the "Organizing Program Associate" for the Transgender Law Center, serves on committees funding trans-lead movement work, and trains organizations with the SUSTAIN Wellbeing COMPASS Center.
Micky is a proud member of the Pioneering House of Ultra Omni, member of Southerners On New Ground, graduate of the 2017 Sojourner Truth Leadership Circle, and 2018 Atlanta Pride Grand Marshal.
Micky B is a proud bisexual mama living and loving in Atlanta, GA. She loves fried vegetarian cuisine after a long day of voguing in resistance to the police state.
We can't wait to be in your presence Micky B!