$17,384 remaining to our goal!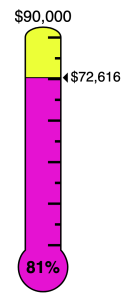 TJFP is a small funding project built and powered by YOU–our beloved and powerful grantees and applicants, donors, staff, volunteers, family, and friends. In the last 24 hours of our 2021 fundraising campaign we're inviting you to donate to help us meet our goal: move over $1 million dollars to support the ever growing grassroots trans justice movement. 
Over Memorial Day weekend our esteemed panel of community grantmaking fellows will be selecting this year's grantees. Among the 211 groups that are applying for funding this year:
171 are BIPOC led (and 131 groups are Black-led!)
120 have never applied for a TJFP grant before this year
100 are groups with no nonprofit status whatsoever

We are just $17,384 away from reaching our goal of $90,000. With the donation you make today you'll be a part of directly supporting the leadership of grassroots activists and organizers who are making our trans futures possible! Can you help us show trans communities that we believe in them and their lives?
Tomorrow night is the deadline to meet our goal of raising $90,000! No amount donated is too small. Please join us this year in showing up for trans justice by resourcing our visionary leaders and communities today, 'cause our future is NOW!
We couldn't do this work without you, so wherever you are, however much you give or support, thank you!