TJFP volunteer Rebecca Wisotsky chatted over the phone with our 2013 grantees to learn more about what their year has been like organizing their communities, providing public education and services, and working towards trans justice. Our grantees generously took the time to share their stories, including their success and challenges. Come meet some of our incredibly dedicated and inspiring grantees from across the country!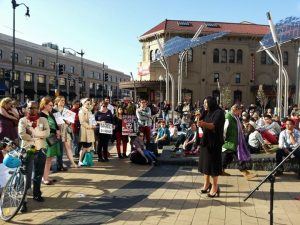 "We believe that as many people as possible should be involved in making decisions that will affect them."
"We believe that people are capable of liberating themselves and should not be dependent on others to speak for them."
"We believe in acknowledging existing barriers to participation in our organization, and are committed to challenging those barriers." 
These are some of the guiding principles of the DC Trans Coalition (DCTC) that I learned about from dedicated volunteer member Nico Quintana. Nico generously took the time to fit me into their busy day and talk with me about some of DCTC's biggest accomplishments and biggest challenges.  
In Washington D.C., there has been increasing violence against trans women of color. Government and outside forces have responded to these tragedies without anyone ever asking the trans community what they needed or what they wanted to see as a response. So DCTC decided to take action.
DCTC started a community-led needs assessment to explore and document the many issues trans folks in DC face. The assessment was created by holding local roundtables in which members of the community from many racial, ethnic, and socioeconomic backgrounds explained their areas of concern to researchers. DCTC then hired community members and gave folks stipends to reach as many trans folks as possible to make this survey successful. They ended up collecting 600 surveys! So what is the theme we're seeing here? Say it with me people: community-led work = community-led solutions = community-led liberation!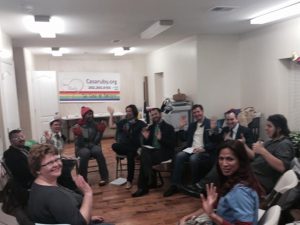 In July of 2013, DCTC had a preliminary meeting, in both English and Spanish, to share the data collected and analyzed from the surveys. DCTC used part of their TJFP grant to pay for materials and give out bus tokens to help make the meeting accessible. This was the one of the biggest local efforts DCTC has ever accomplished! You can check out phase 1 of their summary findings here.  Nico relayed that DCTC wants these results to be shared with everyone, but especially with activists in DC who need data in order to push forward policy around trans healthcare, shelters, unemployment, and violence.  "We continuously have to confront the criminal (in)justice system for its systematic devaluing of trans lives."
While there are great successes to be proud of, Nico told me that there are also daily challenges. One challenge is money. DCTC is not a 501c3 because they believe that "the corporate non-profit model should never entirely replace democratic, grassroots organizations." They also believe that "political organizations should be accountable to their communities and to the individuals who are most directly impacted by their work, and not to corporations, governments, nonprofit industries, or wealthy individuals." So they do not accept corporate or foundation funding or private sponsorship, and depend on grassroots fundraising by their members. Radical fundraising like this isn't easy, so the group's budget is small and DCTC is run by volunteers members. The challenge in this is that the people who most often have time to volunteer are often also people with more privilege (i.e. they have another sustainable source of income, are not homeless, etc.). This makes it harder to keep and maintain a membership that crosses race and class lines. But DCTC uses the funds they do have to maintain community participation and maintain sustainability. 
Rooted in the traditions of social justice philanthropy, TJFP is a community-led funding initiative supporting grassroots, trans justice groups run by and for trans people. TJFP is keenly aware of the power that funders hold over what work gets prioritized and the importance of local grassroots trans justice work. A perfect (funder) match to DCTC? I think so. 
Rebecca Wisotsky, a queer, Puerto Rican Jew from New Mexico, with New Yorkers for parents, has been working towards social justice since she was first able to say "justicia."