As the follow-up to the National Transgender Discrimination Survey (NTDS), the 2015 U.S. Trans Survey will become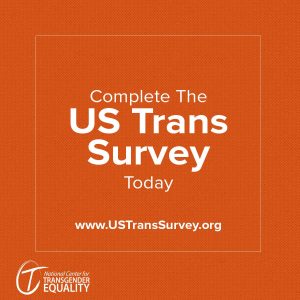 our community's go-to source for information about the lives and experiences of trans people.
More than 6,400 people took the NTDS, and over 13,000 people have already pledged to take the 2015 U.S. Trans Survey. But we need to make sure everyone who pledged completes the survey.
Take the survey if you can!  USTransSurvey.org
La encuesta también está disponible en español
This survey is for people who:
(1) Are transgender, trans, genderqueer, or non-binary
(2) Are 18 years or older
(3) Currently live in the U.S., U.S. territories, or on a U.S. military base abroad
If you do not meet the above criteria, please do not take the survey.
Esta encuesta es para personas que:
(1) Son personas transgénero, trans, genderqueer, o no-binario
(2) Son 18 años de edad o más
(3) Vive actualmente en los Estados Unidos, territorios estadounidenses, o en una base militar estadounidense en el extranjero
Si usted no cumple con los criterios anteriores, por favor, no participe en la encuesta.
Please spread the survey far and wide!