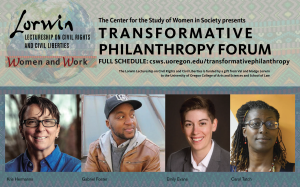 TJFP is excited to participate in the upcoming "Transformative Philanthropy" forum at  The Center for the Study of Women in Society at the University of Oregon on November 9th, 2016. This forum focuses on ways that social justice philanthropy can bring about social change for women, LGBTQ people, and people of color.
TJFP's Co-founder and Executive Director, Gabriel Foster will be speaking alongside Emily Evans, Executive Director of Women's Foundation of Oregon and Carol Tatch, Major Giving Director of MRG Foundation.
Thank you University of Oregon for inviting us to share more about TJFP's grantmaking model, as well as our community of trans justice grantees.
Transformative Philanthropy
November 9, 2016
Panel discussion: 11:00 am – 1:00 pm
University of Oregon Campus
Knight Library – Browsing Room
1501 Kincaid Street
Eugene, OR  97403