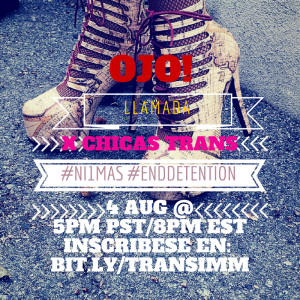 August 4th – 8:00pm Eastern
4 de Agosto – 8:00pm Tiempo Este
(English below)
Patrocinado por: Familia TQLM, GetEqual, Sureños en Nueva Tierra, the Transgender Law Center y la campaña for Ni 1 Deportación mas.
Te invitamos a una llamada de conferencia nacional, especificamente para mujeres inmigrantes transgénero para escuchar y compartir informes y estrategias para acabar con la detención y las deportaciones de nuestra comunidad. Vamos a escuchar mas sobre las directrices publicadas recientemente por el Departamento de Seguridad Domestica (DHS) sobre detenidos transgéneros. También se va hablar sobre que deben de ser los próximos pasos al nivel local y nacional en la campaña. Habrá interpretación al ingles y español.
Regístrate a: http://bit.ly/transimm
Facebook: https://www.facebook.com/events/1606771789593599/
===================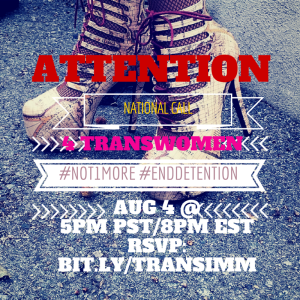 Sponsored by: Familia TQLM, GetEqual, Southerners on New Ground, the Transgender Law Center and the Not1More Deportation Campaign.
You're invited to a national conference call, specfically for transgender immigrant women to update and strategize with each other on the latest developments for an end detention and not one more deportation of our community. We will be hearing more about the guidelines DHS released on transgender detainees as well as local and national organizing next steps. This call will be held in English and Spanish, interpretation will be available.
Register at: http://bit.ly/transimm
Facebook: https://www.facebook.com/events/1606771789593599/