The Trans Justice Funding Project is delighted to be a part of honoring the work and legacy of Miss Major! We hope you too will help celebrate this amazing lover and fighter-who has paved the way for so of many us.  Please share, donate or attend if you can.  Be part of a historical moment!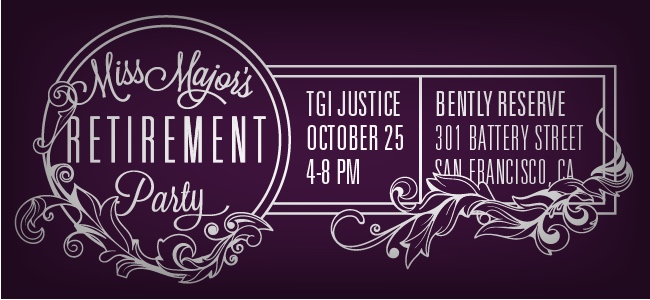 Dear friends, family, and community,
You are cordially and joyfully invited to celebrate the retirement of our Executive Director and lifelong movement leader Miss Major Griffin-Gracy! We hope you will join us to celebrate this momentous occasion and to ensure that our leader has the resources she needs on her journey through her elder years. Her epic retirement party will take place on Sunday, October 25th, from 4-8pm at the Bently Reserve in downtown San Francisco. In addition to marking Miss Major's retirement in style, this event will also mark the beginning of new leadership at TGIJP, as we welcome Janetta Johnson, Miss Major's daughter and protégé, into her new role as Executive Director. Regardless of whether you are able to join us at the party, please help celebrate MissMajor's accomplishments by joining Miss Major's Retirement Circle.
Miss Major's tireless work fighting for incarcerated TGI people has pushed forward our movement for collective liberation and changed the national discussions around mass incarceration and our communities. As we build energy and power for justice and change, we must also move material resources. Act now to support Miss Major's retirement and to support TGIJP in continuing our transformative trans liberation work:
1. Make a one-time or recurring donation to Miss Major's Retirement Circle.
2. Before they run out, get your ticket to Miss Major's epic retirement party on October 25th, or if you cannot make the party, you can still support it and her legacy at TGIJP (tax deductable).
3. Amplify our ask for people to join Miss Major's Retirement Circle! Please lift up, mention, repost and make direct asks for people to connect with and give to Miss Major's Retirement Circle. Facebook, twitter and other social media reposts and engagement will really help!
Thank you for the ongoing work you do in world to carry forward the work towards trans justice and trans liberation. Thank you for embodying the living legacy Miss Major has built of genderific, fabulous, fierce, freedom-seeking and community-grounded people. Together we can celebrate and show up for her the way she has held and shaped our lives and movement!
In love and struggle,
Miss Major's Retirement Host Committee