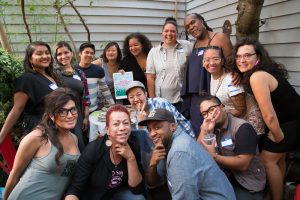 Wow Seattle friends and family, you really showed up big time to support last week's TJFP Happy Hour fundraiser!  It was a perfect Saturday evening in the Herb Garden of Cafe Flora to celebrate local trans justice work and raise some money.
Over 40 people gathered to eat, drink, be in community and help TJFP raise over $1,600.  The garden was completely filled with great people and a lot of love.
We can't even begin to tell you how honored we were to host our very first TJFP event in Seattle with each and everyone of you.
A very special thank you to our grantee's First Rain and Gender Justice League for joining us to share your amazing work, to former TJFP panelists and fabulous guest speakers of the evening, Andrea Jenkins and Bamby Salcedo, our Happy Hour super star volunteers, James, Andrea, Joyful, Becky, Kristen, Melanie and Kyle.  And HUGE shout out to TJFP Happy Hour co-host (and original panelist) Kiyomi Fujikawa!
This event wouldn't have been the same without the incredibly generous donations from Cafe Flora (Thank you Nat and Alison) and stunning photography from, Naomi Ishisaka.  If you are local, please consider supporting Cafe Flora, and Naomi.  They are wonderful!
And finally, TJFP wouldn't be able to exist without your donations and words of encouragement.  Our deepest gratatitude to our Seattle donors and that have been with us over the last three years and new donors we met last Saturday.  We are absolutely creating a new way of funding vital work across the country!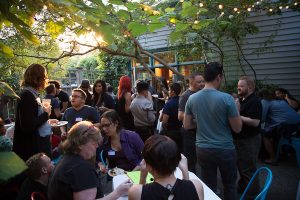 View pictures from TJFP Happy Hour Seattle here.